Yay! You have decided to do an engagement session!
Now the hard part – where to do them, and what to wear.
Let's start with the where.
Personally I like to think of an engagement session as a little date. If you were planning a romantic date night, would you go to a random park and cuddle under random trees? Probably not. Choose a place that is meaningful to the two of you. If that park was where you got engaged or first met, sure let's go there! Or maybe you love going to local patios and enjoying a cold beer – then go there! Take the dog for a walk, browse your favourite book store together, or better yet, just stay home and cuddle on the couch!
I like to ask couples – think about your perfect day – where would you go, what would you do, what would you eat or what music would you listen to? Let's incorporate all those fun things into your session! If you are stumped, tell your photographer some of those details and he or she can help you come up with ideas.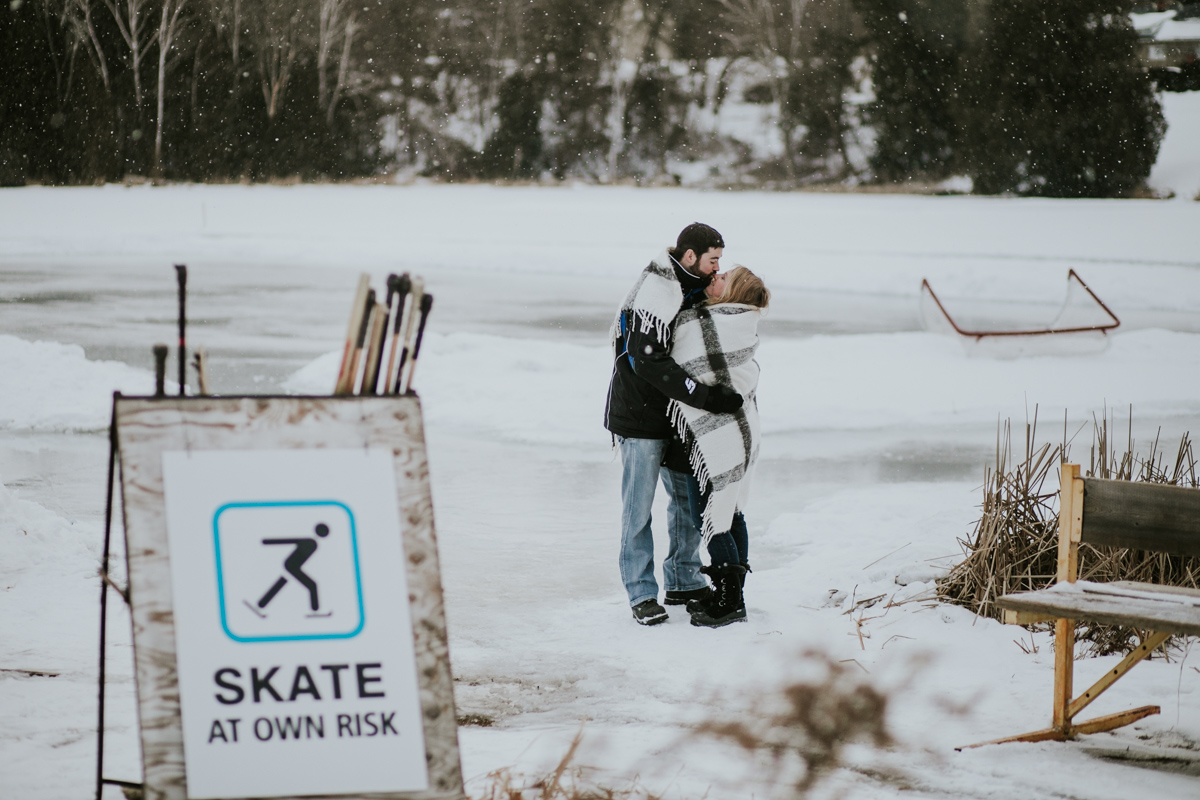 Now the fun part – SHOPPING!
You have decided where to go and now it's time to choose an outfit or two.
Start with the pickier person – let them decide first and the less picky person can coordinate from there. Notice I said "coordinate" and not "match"? That was intentional. This is not 1990 and you are not a Sears advertisement. Don't match. Just don't. Coordinating colours always work well – patterns, colours and textures all look awesome. Make it interesting and fun and really capture your personality.
Accessorize - Are you just a jeans and t-shirt kind of person? No problem. Wear jeans and a t-shirt and spice it up with some cool boots or a funky scarf or hat. Jewelry is always a must as well. And don't be afraid to bring multiple accessories – changing up a jacket or hat or piece of jewelry is an easy way to completely change a look.
Dress the Part – there is no reason why you cannot wear a suit and tie and ballgown to an engagement session in the city, or on a boat, or how about a helipad? (ha, I wish!). And there is nothing wrong with jeans and plaid shirts if that's your vibe. Be yourself, dress for the location and the vibe you are going for. My only advice – be comfortable in whatever you choose.
Seasons – if you live in Canada like me you get seasons. Meaning different weather on a day to day basic. I love shooting in the fall and winter because I love how many different looks we can get. Chunky sweaters, jackets, toques (aka hats for you non-Canadians), mitts, and of course, a BIG WARM blanket are a must. Layer up because you will not be happy if you are too cold, and it will show in your photographs. Stay warm and you can always layer down once you cuddle up and get warm.
Don't forget the Feet! – Sometimes we forget that our feet will also be in the photos! Make sure your shoes or boots go with the rest of your outfit, and are also functional. If you are hiking a path, I suggest not wearing heels. Or bring comfy shoes for the walk and change into the prettier shoes for the photos. Guys – if you are wearing low shoes, wear socks! Often you will sit down and as your pant legs go up, more skin is shown. I have had so many couples say afterward that they wished they had worn better footwear. If you are wearing sandals or barefeet, maybe get a little pedicure before so your toes look just as good as the rest of you!
Coming soon - what to wear for each season :)