When my very best friend, Jenne, asked me if I wanted to photograph her wedding to Jason at The Dock of the Bay Steak and Seafood Grill in Gravenhurst, I immediately said NO. Ha! Now before you assume I am just a big B-word, let me tell you why.
First of all, I had just had baby #4. And if my hubby and I were able to have a weekend away without any kids, well the last thing I want to do is "work"! One night away is like a full blown vacation these days! Next of, I wanted to be there for her. Like, full be there, present, able to help out if she needed me, and be by her side until the wee hours of the morning. (And that happened, both the night before, and the wedding night, of course!)
In the end, since I just LOVE weddings so much, we compromised and I helped her out by referring her to one of my favourite photographer friends and my usual assistant, Kristin Peereboom. Then I agreed to photograph her getting ready, the first look between her and Jason, and some of the reception. SO it was a win-win for all. I got to have fun AND capture some of her treasured moments. Check out the rest of the wedding, (ceremony and Portraits) shot by Kristin, here.
Oh! And let's not forget about the RAIN. All day, etiher raining or about to rain. Dark skies. HOwever they made for some moody portraits and you know what they say about rain on your wedding day - GOOD LUCK BABY! So now I know J&J will have many happy years together with their family!
Now let's begin with the adorable pink details! I haven't seen a baby pink in a wedding for a long time! And aren't those the cutest wedding shoes?!
The BEST First Look I ever did see! They did it at their family cottage, and I love how Jason was led by his mother and 3 kids to see his waiting Bride!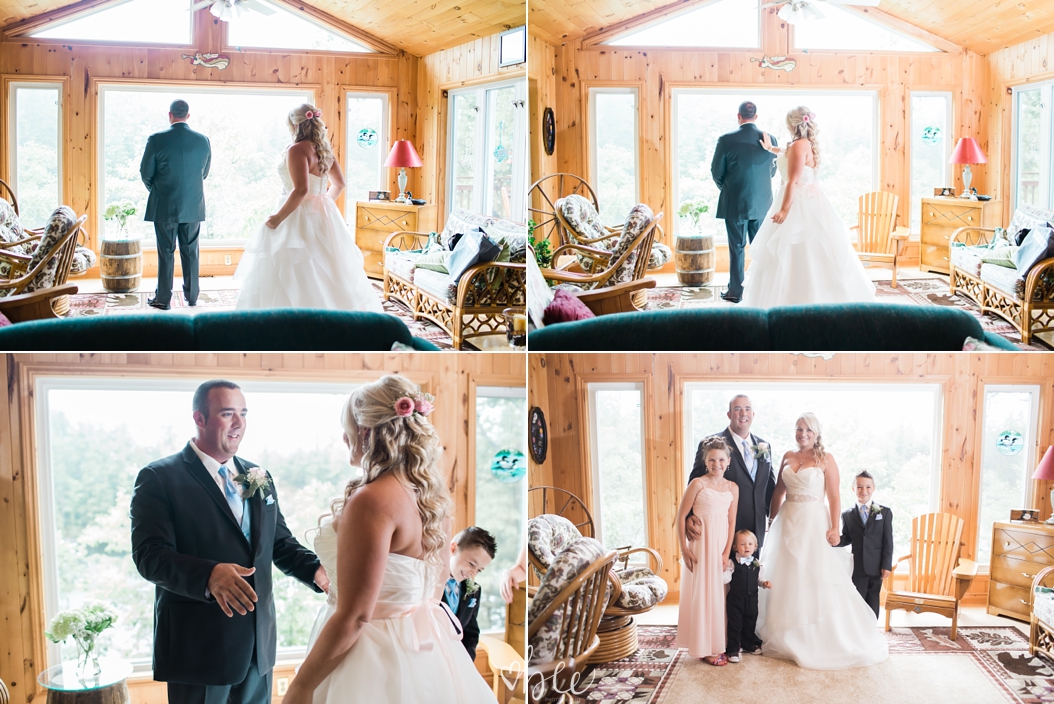 And it wouldn't be a Jenne party without a PAR-TAY! Good times were had by all!

Some tips from the Bride
What was most important to you when planning your wedding?

That our wedding was fun and personal.
What was the most memorable part of the day?

I think seeing my husband and my dreams come true throughout the whole day. Including our first look photos, walking up the aisle, our first dance and the amazing party. Not the rain!!
Any wedding planning advice you'd like to share?

No one will notice the little things that don't go just right except you. So let it go and just enjoy the day.
How did you choose your wedding photographer?

I love her style. She is very talented and has great ideas.
Any advice for future couples?
Hire a day of wedding coordinator if you can afford it, to give you peace of mind. Or ask a friend you trust to do this for you.
Don't forget to click on Kristin's post to see more! Especially the moody sky portraits! Love those!